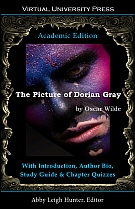 Popular Title!
Oscar Wilde's legendary gothic horror novel
Dorian Gray is a remarkably handsome young man who views a painting of himself drawn by a friend and wishes that he could retain his youth and beauty, while the painting ages instead. His wish is granted, and he embarks on a life of pleasure-seeking and debauchery that has a predictably tragic ending.
The Picture of Dorian Gray is Oscar Wilde's only novel, and although its daring embrace of decadence and sexuality sparked an uproar in Victorian-era England, the work today is regarded as a suspenseful and thought-provoking masterpiece as disturbing as it is intriguing.
Virtual University Press offers this classic in three editions to suit the needs of students and casual readers. Our Classic Edition contains the full-text of the story, lightly edited for modern readers, plus an Editor's Introduction offering historical context on the book and an author bio. Our Study Guide & Workbook contains the Editor's Intro, brief chapter summaries, discussion prompts, and chapter-based quizzes to help readers grasp and remember key details of the story. Our Academic Edition contains the full story plus the Study Guide & Workbook. Learn more about our special editions and explore our virtual classroom.